Mark Denza
---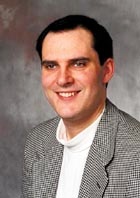 Mark Denza is a great-grandson of Luigi Denza, composer of the ubiquitous Neapolitan song Funiculì, Funiculà; and twice achieved success in that field himself as winner of the The Bach Choir's competition for an original Christmas carol. Both entries received their first performance at the Royal Albert Hall, and were subsequently published by Oxford University Press. A graduate of the London College of Music, where he studied organ with Margaret Phillips, singing with John Cameron, and conducting with William Webb; he also holds FLCM, ARCO, and CHD diplomas. Though primarily a freelancer, he is organist and director of music at All Saints', East Finchley, Saint Thomas More's, Swiss Cottage, and Saint John's, Shepherd's Bush; accompanist and vocal coach of the North Camden Chorus, and the JC Singers; and a staff chorister at Belsize Square Synagogue.
Mark's career as an organist has encompassed solo and duet recitals, alongside orchestral works such as the Saint-Saëns Organ Symphony. Prominent engagements in recent years have included playing for the wedding of Lord Nicholas Windsor, the first member of the Royal Family to marry in the Vatican; the nuptials of celebrity power couple David Mitchell and Victoria Coren; and the memorial service of Anthony Minghella, attended by serving prime minister Gordon Brown, predecessor Tony Blair, and a churchful of Hollywood glitterati.
Mark was one of the solo singers in a live BBC2 broadcast of Stravinsky's The Nightingale from the Royal Festival Hall, conducted by Pierre Boulez — a rôle he subsequently repeated in Brussels, Rome, and Lisbon. Televised solos have also cropped up on Songs of Praise, and a live programme celebrating the UN's fiftieth anniversary, alongside several slots on BBC radio. A regular ensemble singer in numerous guises, he has notched up seventeen performances at the Last Night of the Proms.
Mark is a frequent guest director with choral groups of all shapes and sizes, and his conducting CV features BBC2's Election Night Armistice, Granada Television's The Jury, and Radio Four's Daily Service. His début CD directing the Hampstead Singers and Emmanuel Chamber Orchestra, My beloved spake (GMCD 7200), was acclaimed by Classic FM Magazine as "enchanting". As a pianist, he has played for the Canal Café Theatre's long-running satirical show NewsRevue, and for song recitals; whilst on violin and viola, he has appeared with the Young Musicians Symphony Orchestra, Camden Symphony Orchestra, and Hampstead Sinfonietta. His many arrangements and transcriptions include a mixed-voice version of Holst's Ave Maria, which has been widely performed by Winchester Cathedral Choir, and other groups.
Links
---